BEST COFFEE-CHOCOLATE CUPCAKES WITH CARAMEL MASCARPONE CREAM
Get your caffeine fix with these super moist, flavorful, eggless coffee  chocolate cupcakes, topped with caramel mascarpone cream. It's my favorite recipe, and a guaranteed crowd pleaser for the upcoming holiday parties.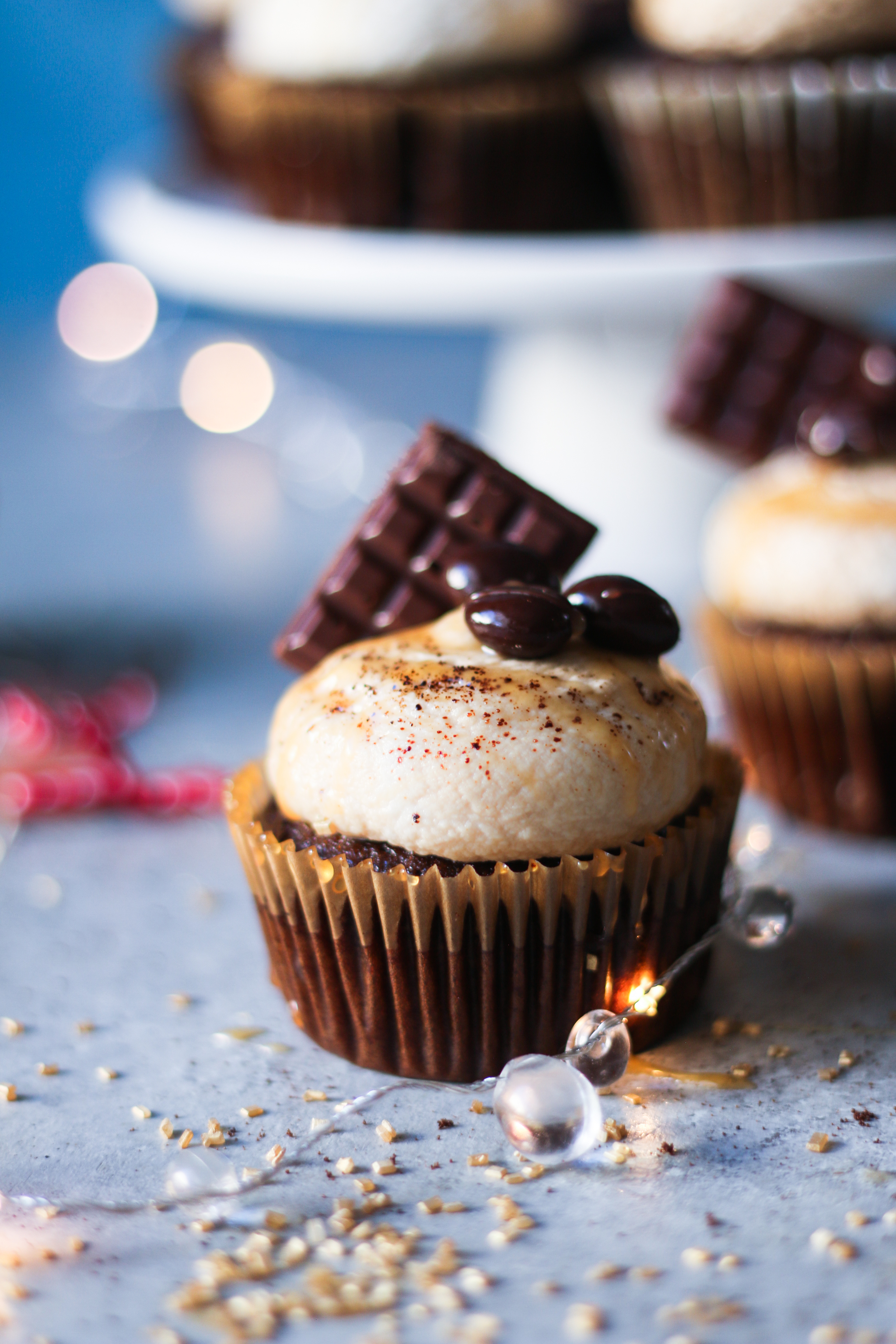 Say Hello to the best coffee chocolate cupcakes that I've made.  The exact recipe that I've been making for the last many years, and one of the first recipes I posted on this blog, was this CUPCAKE. The frosting is a beautiful, delicately flavored cream which holds well with a touch of mascarpone.  The coffee is pronounced, but not bitter, and will not keep you up :).  It's a coffee lover's dream.
There was a time when I was obsessed with CUPCAKE WARS.  I'm sure many of you were.  Watching that kept me on the edge. The flavors they produced in that amount of time was ridiculous.  And those crazy cupcake tiers that were built in an hour or so, just made me wonder if it was really possible.  There's something about the beauty in these mini portions of cake.  Entertaining is easier, and it looks gorgeous on a pedestal.
I remember I would write down the flavor profiles in my diary. Coffee and chocolate being my favorites. I very well remember I made a few, maybe a couple, all the rest that were written were just that.   However, this one recipe by a vegan baker who made some immensely amazing cupcakes intrigued me.   This coffee chocolate cupcake is definitely inspired by that.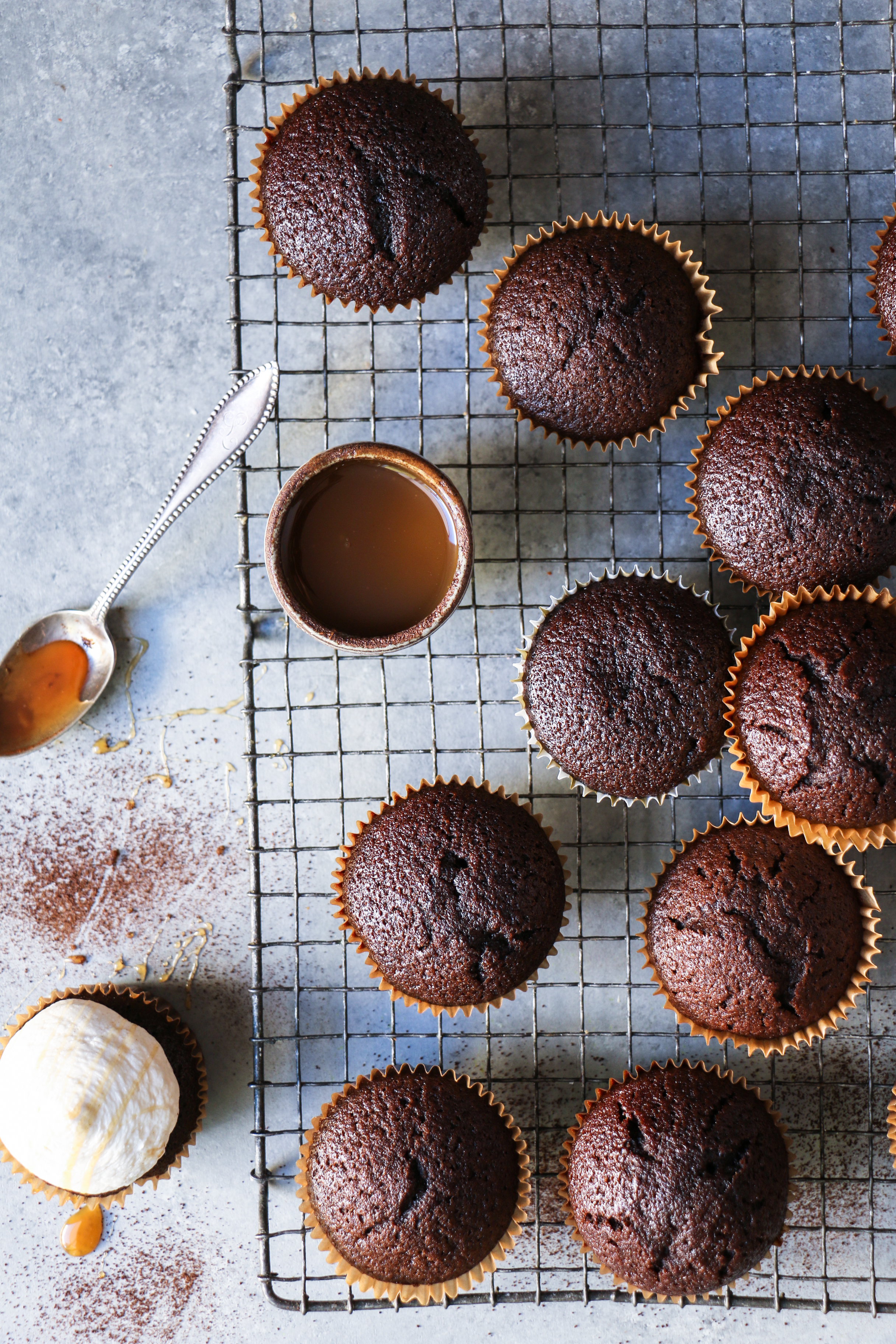 This weekend I woke up with a hurt pinky and decided to make cupcakes since they didn't need chopping or intense efforts.  I added a good dose of my South Indian coffee brew, and a sprinkling of espresso to kick it up.  What really pulled this together was the caramel in the frosting to make it taste like a caramel macchiato.
IT WAS D I V I N E!!!!!  I doubled the batch and was left with just two by the end of Sunday evening.  That says it all.
It's light, has the right amount of moisture, and the best is that it's egg less.  If you want to make it fully vegan, use vegan margarine and leave the mascarpone, it's great too.  Garnish with anything you like.  I had these mini chocolate moulds from back then when I was a cupcake war fan:).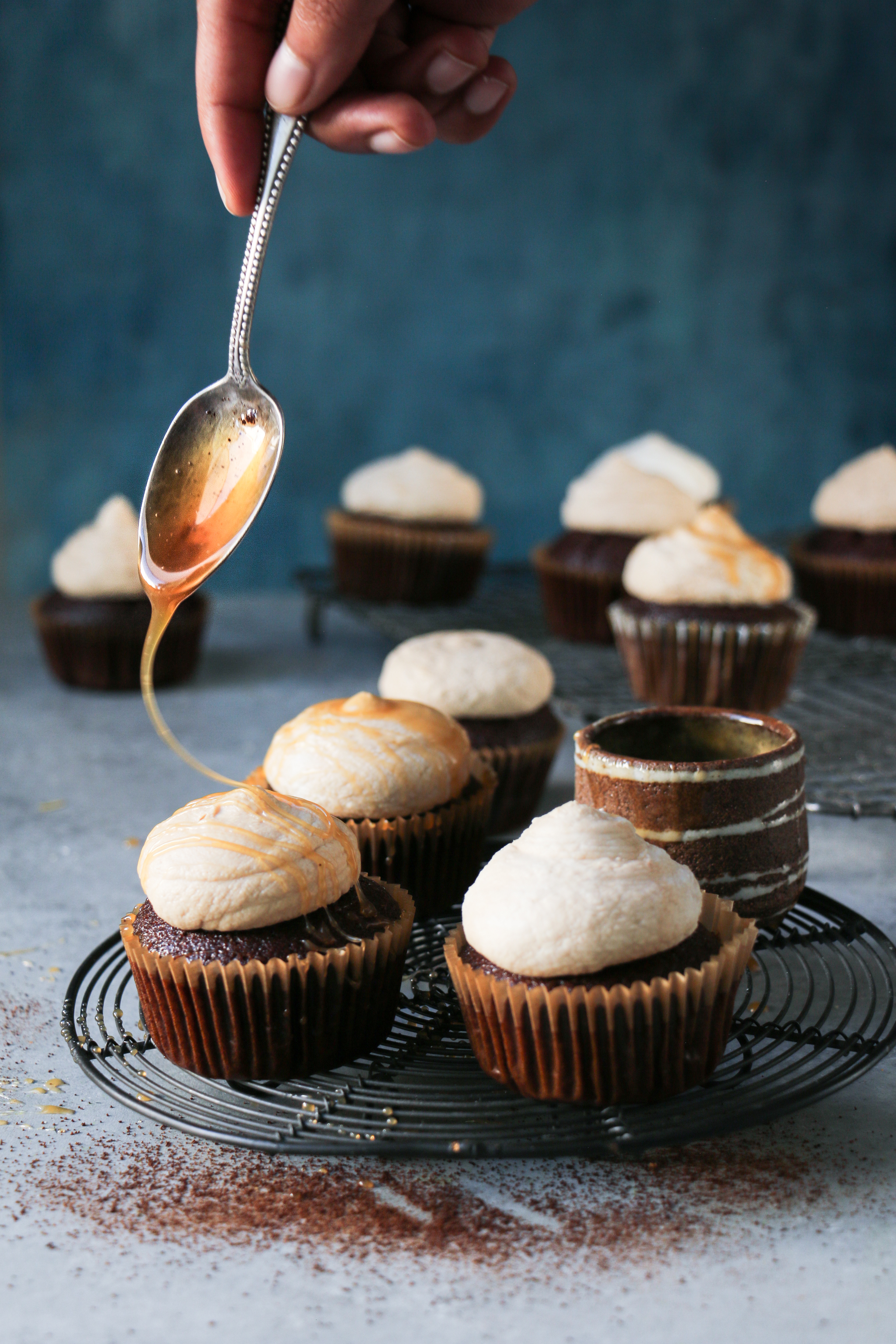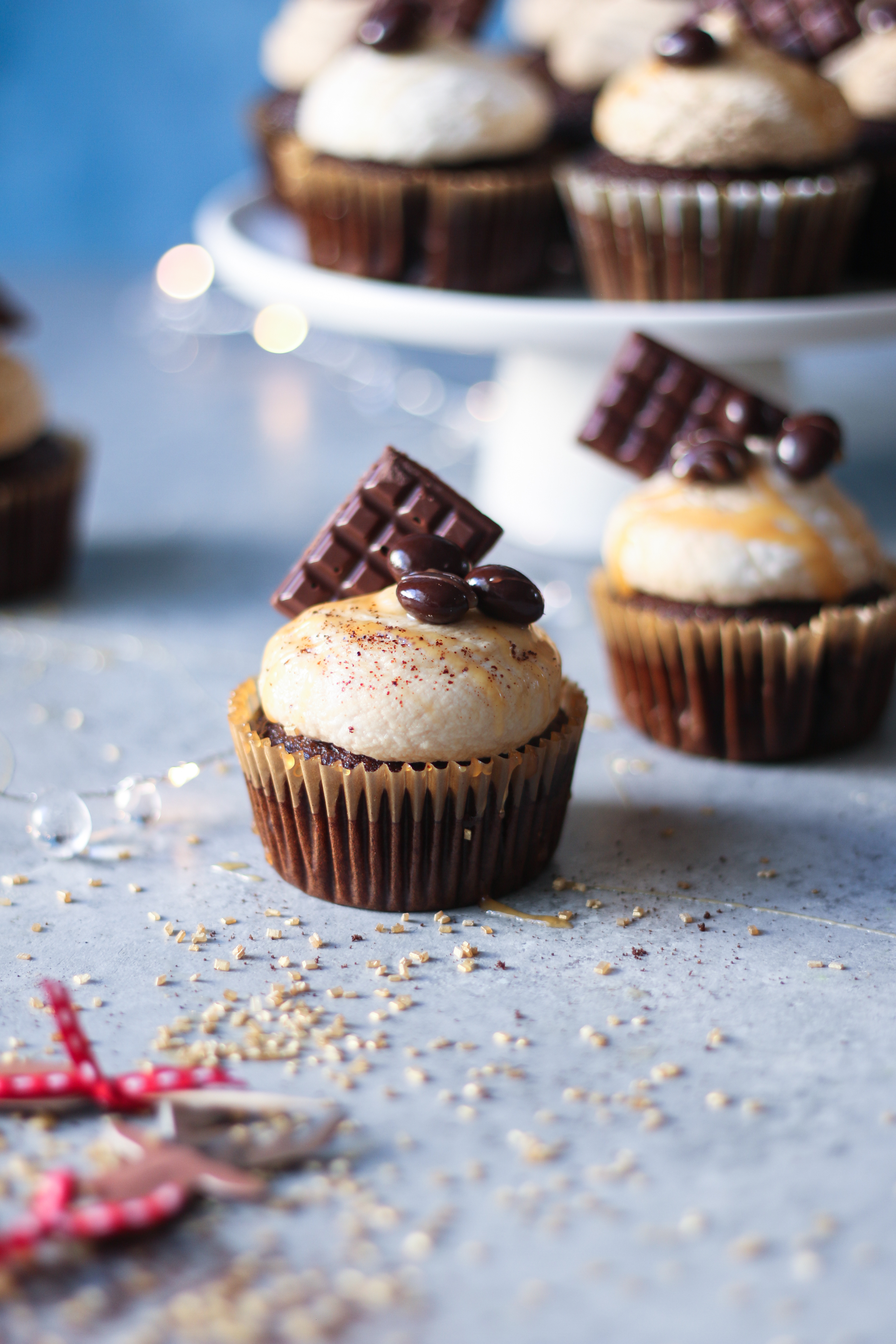 Coffee-Chocolate Cupcakes with Caramel Mascarpone cream
2 cups All Purpose Flour
1 cup white sugar
3 tbsps cocoa powder
2 tsp expresso powder(the most important and key ingredient)
1 tsp baking soda
6 tbsp vegetable oil
1 tbsp vinegar
1 tbsp vanilla extract
½ tsp salt
2 tbsp coffee, brewed
1 cup warm water(you could also add rice milk, soy milk)
4 oz mascarpone cheese
⅓ cup powdered sugar/confectioners sugar
8 oz heavy whipping cream
½ tsp vanilla extract
2 tbsp caramel sauce, store bought is fine or you can use home made
2 tsp espresso powder
chocolate covered coffee beans
chocolate
sprinkle of espresso
Preheat the oven to 350 degrees for 10 minutes. Line medium size muffin tins with wrappers, set aside.
In a mixing bowl, add all purpose flour, sugar, cocoa powder, espresso powder, baking soda and salt. Mix it well.
Mix Vegetable oil, vanilla extract and Warm water and vinegar in a mixing bowl.
Add the wet ingredients to the dry and use whip to mix it. DO not over beat it. The mixture will be liquidy.
Pour a ladle full of the batter in each muffin tin. Bake at 350 degrees in muffin pan for about 20 to 25 minutes. Check with a toothpick.
Take it out and let it cool on a cooling rack for 30 minutes before frosting or until it is cool.
In a kitchenaid or with a hand mixer, add the mascarpone and sugar. Beat it at low speed until everything is mixed well and soft. Add the whipping cream and whip it until you get semi stiff peaks. Add the vanilla extract, caramel and espresso and beat it for another 10 seconds until everything is mixed in.
Put it in a piping bag and pipe it on completely cooled cupcakes.
Top it with some chocolate and sprinkle with espresso and serve.
From >>https://www.foodfashionparty.com/2017/12/coffee-chocolate-cupcake.html