Butterbeer Cupcakes Recipe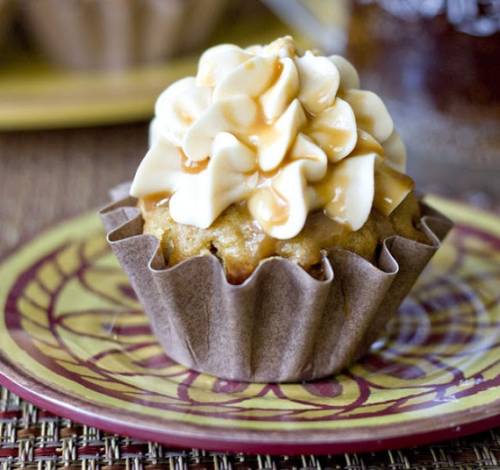 Ingredients
Cupcakes
2 cups flour
1-1/2 tsp baking powder
1/2 tsp baking soda
1/4 tsp salt
1/2 cup unsalted butter, at room temperature
1/2 cup sugar
1/2 cup dark brown sugar
3 large eggs
1-1/2 tsp vanilla
1 tsp butter flavoring
1/2 cup buttermilk
1/2 cup cream soda
Butterscotch Ganache
Buttercream Frosting
1/2 cup unsalted butter, at room temperature
1/3 cup butterscotch ganache
1 tsp vanilla
1 tsp butter flavoring
1/8 tsp salt
1 lb powdered sugar
Splash of cream (as needed)
Instructions
Cupcakes
Preheat oven to 350 degrees and line cupcake tins with paper liners.
In a large bowl, whisk together flour, baking soda, baking powder, and salt.
In the bowl of an electric mixer, cream together butter and sugars until light and fluffly, about 2-3 minutes.
Beat in eggs one at a time, scraping down the sides of the bowl between each.
Add in vanilla and butter flavoring.
Combine buttermilk and cream soda in a small bowl and alternate adding that combination with the flour mixture with the mixer on low, starting and ending with the flour.
Fill cupcake liners 3/4 full and bake for 15-17 minutes, or until cake tester comes out clean. Cool completely on wire racks.
Ganache
Melt butterscotch chips and heavy cream together using a double boiler until completely smooth.
Cool to room temperature to allow the ganache to slightly thicken.
Fill a plastic squeeze bottle with the ganache, and insert tip into each cupcake, filling until the ganache starts to slightly overflow.
Buttercream Frosting
Cream butter in the bowl of an electric mixer until light and fluffy.
Add ganache, vanilla, butter flavoring, and salt and mix until well combined.
Beat in powdered sugar and allow it to come together for about 2 minutes.
Add cream a tablespoon at a time until desired consistency is reached.
Pipe frosting onto cupcakes with a large tip and drizzle leftover butterscotch ganache over each.
From >>http://www.magicalrecipes.net/harry-potter-butterbeer-cupcakes-recipe/