Chocolate Cherry Cupcakes with Cream Cheese Frosting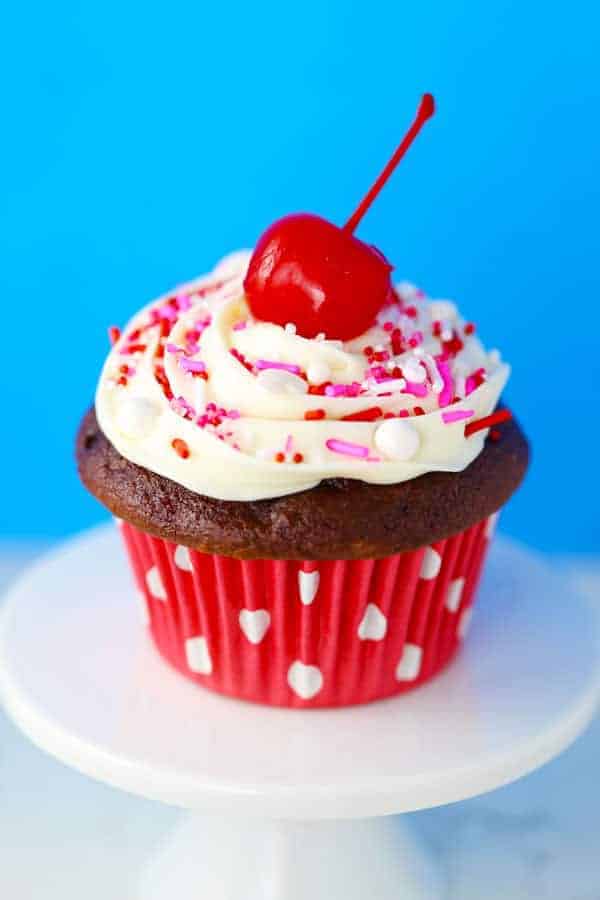 Valentine's Day is right around the corner, do you know what you're giving your sweetie? How about these adorable and delicious Chocolate Cherry Cupcakes with Cream Cheese Frosting?! They're simple to make and so festive too! I'll be sharing step-by-step instructions later on in this post. Just scroll down to see.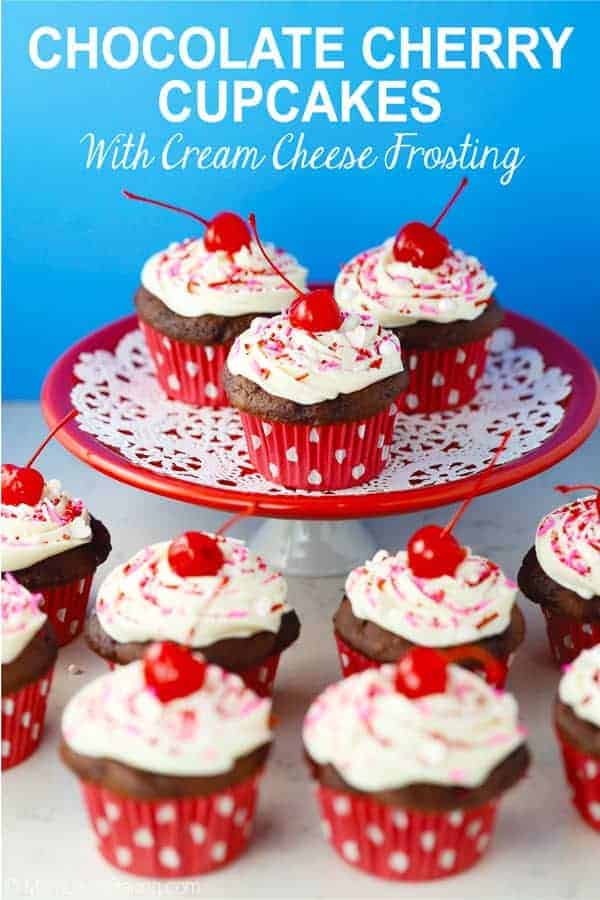 Love is in the air and also in these cupcakes. They've got Valentine's Day written all over them!
Show your friends and family how sweet you think they are by making them something sweet! It doesn't have to be a time consuming baking project though. Making these Chocolate Cherry Cupcakes was super easy with a Pillsbury Devil's Food Cake Mix and the NEW Pillsbury Pastry Bag Cream Cheese Frosting. The frosting is so convenient because it comes in it's own pastry bag and pastry tip! All you do is clip off the tip and start piping! I've actually joined forces with Pillsbury to help spread the word about Operation Celebration. I love that name. Isn't it cute?! And honestly, I think it's very appropriate because I take celebrating very seriously! So what is Operaftion Celebration, you might ask? It's a way of inspiring families to get together in the kitchen and celebrate special days with sweet treats. That's right up my alley. I'm all in for Operation Celebration!
Pillsbury and the Pillsbury Doughboy want to inspire YOU to join Operation Celebration. Click hereto sign up for the Pillsbury Operation Celebration Newsletter to receive baking ideas.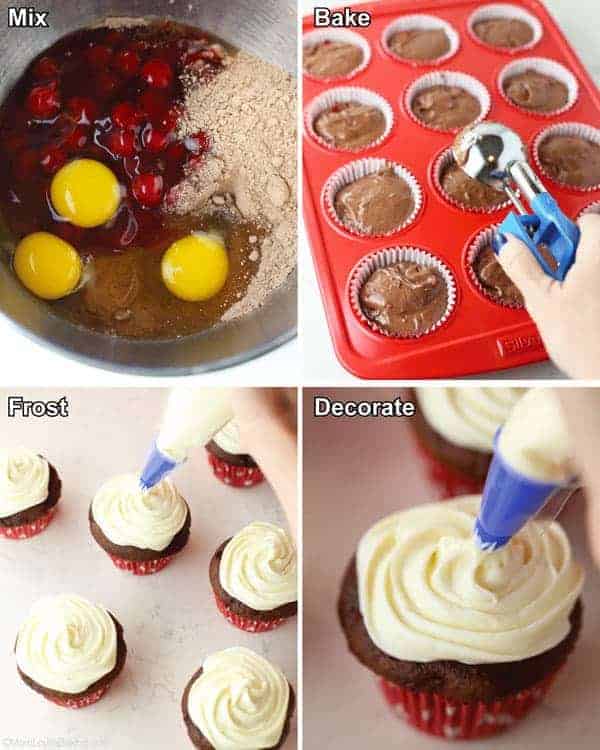 Now for the step-by-step instructions. I decided to get a little creative with this recipe, so I added some different ingredients to the Pillsbury Devil's Food Cake Mix. Instead of using the oil and water, I added one can of cherry pie filling as well as 3 large eggs. I also added 1 teaspoon of almond extract for an extra pop of flavor. I mixed all of the ingredients in a large bowl with an electric mixer on medium for 2 minutes, then scooped the batter into 18 muffin cups lined with cupcake liners. Then baked them at 350°F. for 25 minutes and let them cool.
I piped the Pillsbury Pastry Bag Cream Cheese Frosting onto the cupcakes in a swirled pattern. It's so fun to pipe frosting and I loved that the frosting was already in the pastry bag. Quick and easy!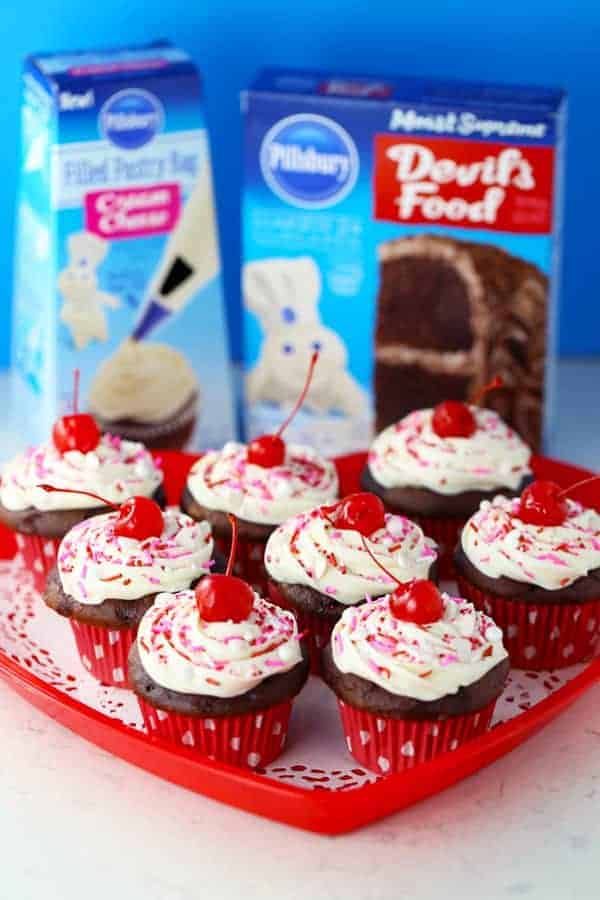 Then I added Valentine themed sprinkles and a cherry on top. The cherry pie filling makes these cupcakes extra moist and the chocolate cherry combination is amazing! The cream cheese frosting is the perfect addition!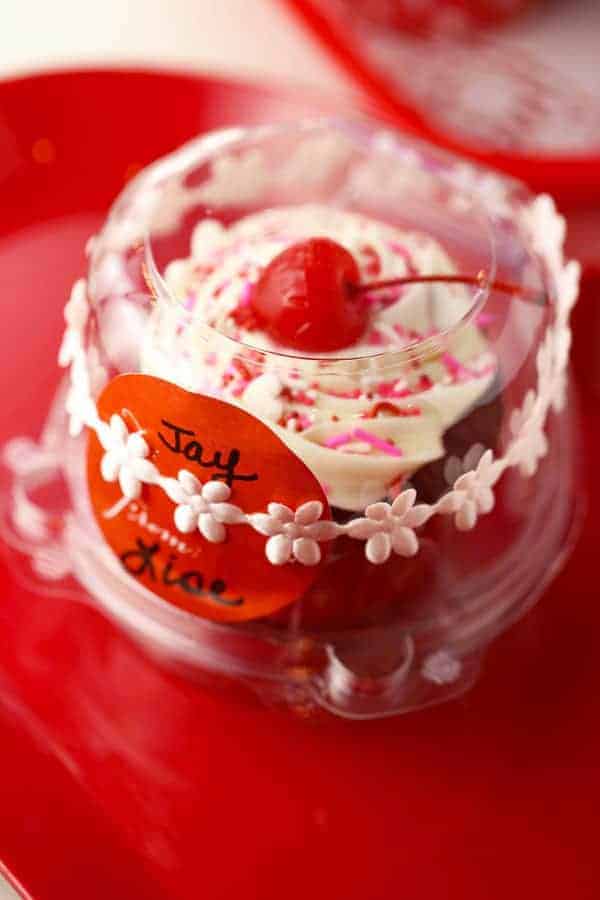 My son, Luke, is in 6th grade, so it's not cool to give Valentines in school any more. Isn't it sweet that he wanted to give one to his Nana!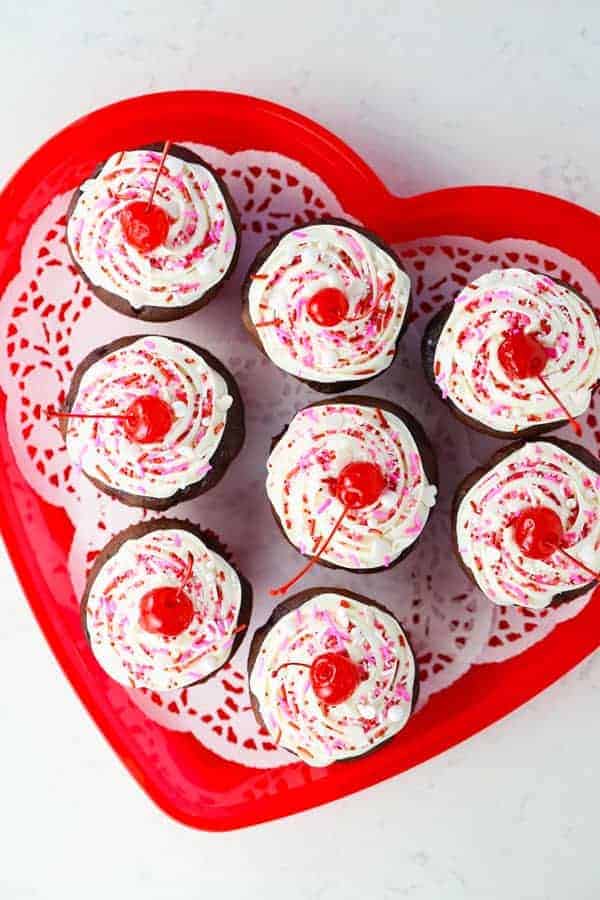 Chocolate Cherry Cupcakes with Cream Cheese Frosting
Ingredients
1 (15.25 oz.) Pillsbury® Devil's Food Cake Mix
1 (21 oz.) can cherry pie filling
1 teaspoon almond extract
3 large eggs at room temperature
2 Pillsbury® Pastry Bag Cream Cheese Frosting
Sprinkles
18 maraschino cherries
Instructions
Preheat oven to 350°F. Line muffin tins with 18 cupcake liners. Set aside.
Place cake mix, eggs, cherry pie filling and almond extract in a large bowl. With an electric mixer on low, beat until ingredients are combined. Turn mixer up to medium and beat for 2 minutes. Scoop into prepared pans. Bake for 22-25 minutes or until a toothpick inserted into a cupcake comes out clean. Let cool.
To decorate, cut the plastic tip off of the pastry bags. Pipe frosting onto the cupcakes in a swirling pattern. Add sprinkles and cherry on top. Serve immediately or store covered in the refrigerator for up to 5 days.
Fro >>https://www.momlovesbaking.com/chocolate-cherry-cupcakes-cream-cheese-frosting/