COFFEE CUPCAKES SALTED CARAMEL FROSTING
Adorable Coffee Cupcakes with Salted Caramel Frosting. These cupcakes have a wonderful coffee overtone topped off with a delicious hint of salted caramel in a beautiful and rich frosting.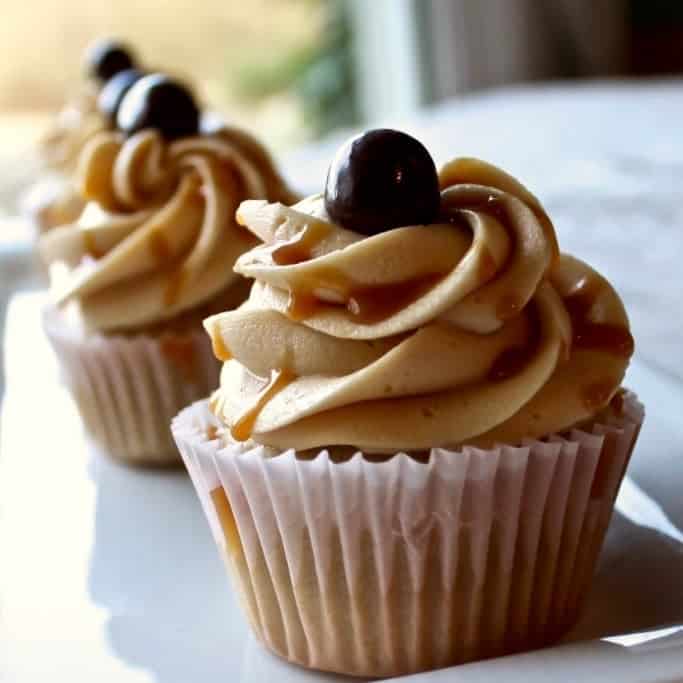 I have two addictions in this world. Neither are good for me in large quantities. Unfortunately, I tend to consume very large quantities of both my addictions. Cupcakes and coffee. Yep, I'm completely and hopelessly addicted to both. I now have my father addicted to my Easy Iced Coffee! And he LOVES these cupcakes!
Coffee isn't SO bad. Recent studies suggest coffee actually has some health properties to it. Coffee has antioxidants! That is excellent news!  It can boost your memory. And that delicious injection of caffeine helps you survive the work day! Wonderful! Coffee is health food!
Unfortunately the same cannot be said for cupcakes. My mother has valiantly tried to make "healthy" cupcakes. My stubborn sugary taste buds just want the ooey gooey sweetness of delicious and sugary cake. So we have come to a compromise. I get to bake my cupcakes as long as mom can even it out with healthy food.
I have a whole section of homemade cupcakes for you I call cupcake corner  🙂 Enjoy!
But I digress. Back to my two addictions. I have managed to combine them all into one! I made this absolutely addicting and yummy coffee cupcake.  Then I topped it off with a  salted caramel buttercream frosting. Can you say yummy?!
COFFEE CUPCAKES WITH SALTED
CARAMEL FROSTING RECIPE:
This beautiful creation was not terribly difficult to make. I must admit I cheated a little and I did not make the salted caramel from scratch.
We DO have a fantastic recipe for Homemade Buttermilk Caramel Sauce.  And Inger's single ingredient Caramel spread recipe is also on the blog now.  I highly recommend them for the best flavor! Inger's caramel spread will need to be diluted to a sauce consistency with water or milk if you choose that recipe.
You will need to add Sea salt if you use these homemade recipes. I recommend a good, large grained sea salt. Sprinkle the salt, to taste, lightly over the caramel sauce.
Of course, we had neither of these homemade caramel sauce recipes on the blog the day I made this Coffee cupcake recipe. SO, I ran to the store and grabbed a jar. I will blame my adorable 2 month old.  She's cute but slightly cranky these days. She does not love MaMa ignoring her in the kitchen! So:
I made the coffee cupcake and whipped up a salted caramel buttercream frosting.
I topped off the cupcake with a drizzle of the caramel sauce over the top of the frosting.
And just for fun, I garnished it with a chocolate covered espresso bean. Perfect!
We all LOVED these cupcakes!
COFFEE CUPCAKES WITH SALTED CARAMEL FROSTING
INGREDIENTS
1/4 Cup Chilled Strong Coffee (I brewed a fresh pot of french roast and stuck 1/4 cup in the fridge)
3/4 Cup Granulated Sugar
1/2 Cup Room Temperature Butter (1 stick)
2 Tsp Vanilla Extract
3 Large Eggs
1 1/2 Cups Flour
1 1/2 Tsp Baking Powder
1/4 Tsp Salt
FROSTING
1/2 Cup Room Temperature Salted Butter (1 stick)
1/2 Cup Salted Caramel Sauce
1 Tsp Vanilla Extract
2 Cups Confectioners Sugar
INSTRUCTIONS
Mix together softened butter and granulated sugar, make sure they are thoroughly combined.
Next add eggs one at a time
Add Vanilla extract next, mix thoroughly.
Sift together flour, baking powder, and salt.
Add 1/3 of the flour mixture and 1/8 of the chilled coffee to the liquid mixture.
Mix well and continue alternating adding in the flour and the coffee until everything is mixed well.
Taste the batter and add more coffee depending on how strong you would like the taste in your cupcakes.
Fill cupcake liners 2/3 full with the batter.
Place in the oven and bake at 350 Degrees F.
Bake for 18-20 minutes or until a toothpick can be inserted and comes out cleanly.
FROSTING
Cream 1 stick of softened butter for 3-5 minutes until it is light and fluffy.
Next slowly add in the powdered sugar and mix well between additions.
Add the vanilla extract and mix it in.
Add the Salted caramel next and thoroughly blend it into the frosting.
The frosting should be thick but light and airy.
Place in a piping bag and pipe frosting onto the cupcakes.
Place the remaining salted caramel sauce in a piping bag with a small circle tip.
Drizzle slowly over frosted cupcakes.
Garnish with a chocolate covered espresso bean.
From >>https://www.homemadefoodjunkie.com/coffee-cupcakes-salted-caramel-frosting/