DISNEYLAND'S SWEET CORNBREAD RECIPE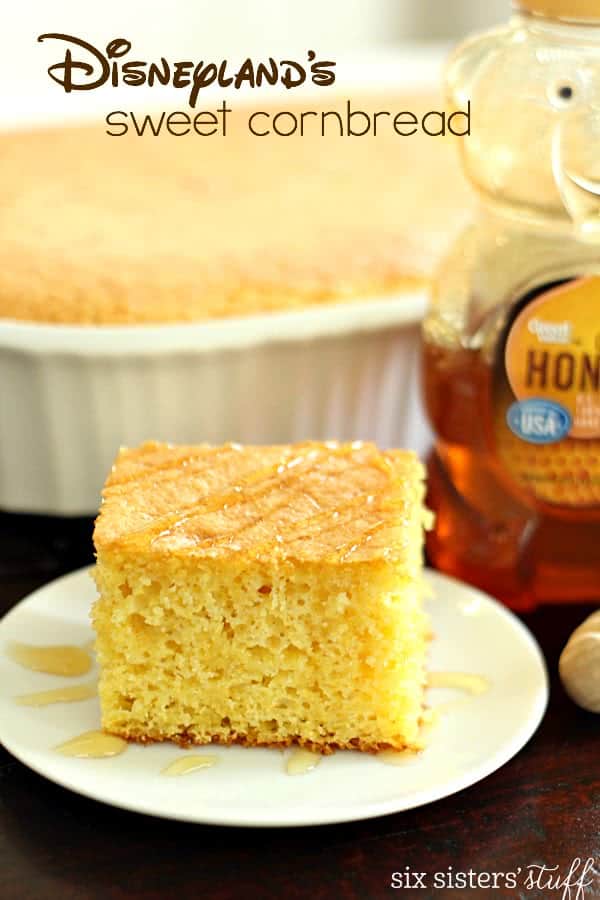 Disneyland is notorious for having some of the best food . . . seriously, one of my favorite parts of the whole Disney experience is the smells you smell as you walk around the park.
Many years ago, my family ate at the Big Thunder Ranch BBQ (over in Frontierland) and I recently learned that the restaurant closed a couple of weeks ago to make room for the new Star Wars attractions coming in. I was heartbroken! I am a big BBQ fan and this restaurant did not disappoint! I found this recipe online for the restaurant's sweet cornbread and knew that I had to make it. Seriously, this recipe takes cornbread to a whole new level!! Most cornbread is super gritty from the corn (which is still yummy), but this cornbread has a really smooth texture and is almost cake-like . . . (bonus: there is a cake mix in the recipe!). This was a huge hit with my family and is the perfect compliment to any BBQ dinner or even chili. Who knows if the restaurant really made their cornbread with a cake mix, but hey . . . it tastes too good to really care! 😉
So even though the famous Disneyland restaurant is now closed, thankfully we can still enjoy this yummy cornbread!
DISNEYLAND'S SWEET CORNBREAD RECIPE
INGREDIENTS
1 (15.25 oz) yellow cake mix
2 (8.5 oz each) Jiffy corn muffin mixes
Ingredients called for on the back of the cake mix (eggs, oil, water)
ingredients called for on the back of the corn muffin mixes (eggs, milk)
INSTRUCTIONS
Preheat oven to 350 degrees. Spray a 9×13″ baking pan with non-stick cooking spray and set aside.
In a large bowl, dump in all three boxes of dry mixes (the 1 cake mix and the 2 corn muffin mixes). Add in the ingredients called for on the back of the cake mix box (usually 3 eggs, water, and oil). Now add in the ingredients called for on the back of each corn muffin mix (usually 1/2 cup milk and 1 egg per box).
Mix all the ingredients together until completely combined (but try not to over-mix). Pour batter into prepared pan and bake for 28-33 minutes or until a toothpick stuck into the center of the cake mix comes out clean.
Serve warm with butter and honey.
From >>https://www.sixsistersstuff.com/recipe/disneylands-sweet-cornbread-recipe/#_a5y_p=4929076