Eggnog Cupcakes
Today's post will demonstrate that carton of eggnog in your fridge right now is not just for drinking. Though I adore a mug of eggnog while I sit by the twinkling lights of the Christmas tree, I wanted to branch out this year and use eggnog in a few different recipes. The first one that came to mind was Eggnog Cupcakes with an Eggnog Buttercream Frosting. They turned out to be a beautifully festive dessert perfect for the holidays.
You'll need 1/2 cup eggnog for the cupcake batter and 1/4 cup for the frosting. The eggnog makes the cupcakes moist and dense.
I think my favourite part may be the frosting. I had several "taste tests" before it made its way onto the cupcakes. I had to make sure it passed the taste test!
I always sprinkle nutmeg on top of my eggnog so I did the same with the cupcakes.
Your holiday baking will not be complete without a batch of these Eggnog Cupcakes. Save the recipe or pin it to your Christmas boards because trust me, you'll want to make them before Christmas!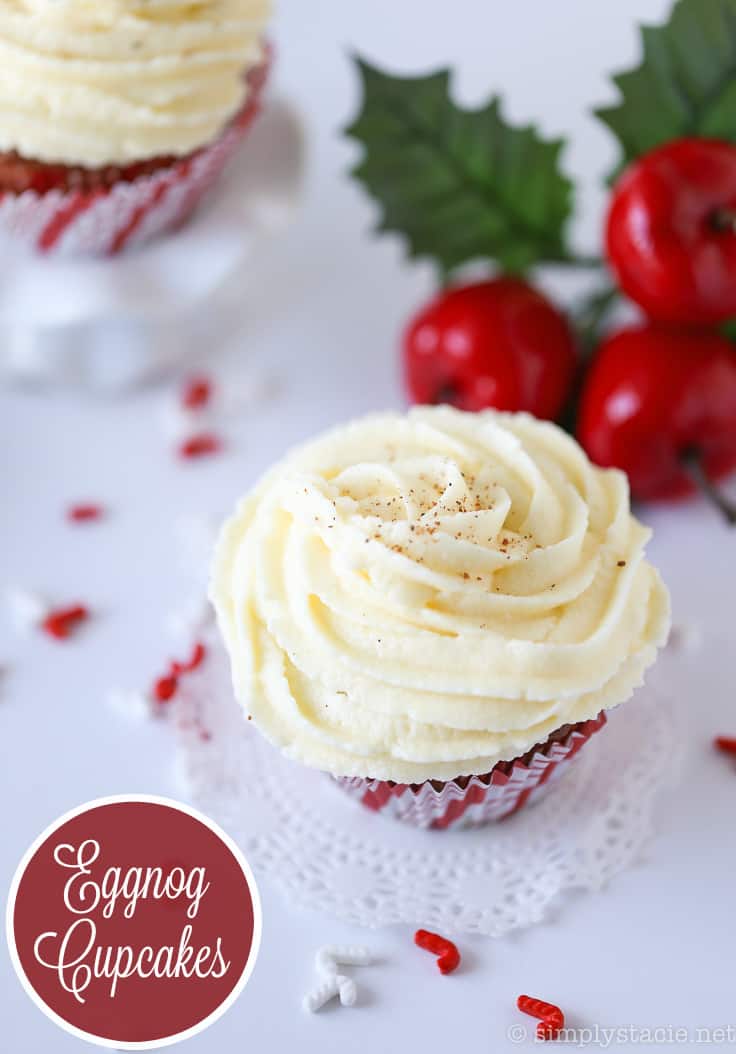 Eggnog Cupcakes
ingredients:
1 1/4 cup flour
1/2 tsp nutmeg
1/2 tsp baking powder
1/4 tsp baking soda
pinch of salt
1 cup sugar
1/2 cup butter, softened
2 eggs
1/2 cup eggnog
FROSTING
1/2 cup butter, softened
2 cups powdered sugar
1/4 cup eggnog
1/2 tsp vanilla extract
nutmeg, for garnish, if desired
directions:
Preheat oven to 350F. Line a cupcake pan with paper liners.
Add flour, nutmeg, baking powder, baking soda and salt in a large bowl and stir to combine.
In another bowl add butter and sugar and beat with an electric mixer on medium until creamy. Add in eggs, one at a time, continuing to beat. Then add in the eggnog and beat to combine.
Pour wet mixture into dry mixture and stir to combine.
Spoon batter into muffin tin, about 3/4 way full.
Bake for 25 minutes or until a toothpick comes out clean. Allow to cool for 10 minutes before transferring to a wire rack. Once cooled completely, you are ready to frost the cupcakes.
TO MAKE THE FROSTING
Cream the butter and powdered sugar together with an electric mixer on medium. Add in eggnog and vanilla extract and cream till smooth.
Scoop icing into a pastry bag with a large tip to frost the cupcakes. Start from the outside edge and work your way towards the centre. Sprinkle with nutmeg, if desired.
From >>https://www.simplystacie.net/2015/12/eggnog-cupcakes/?utm_medium=social&utm_source=pinterest&utm_campaign=tailwind_tribes&utm_content=tribes