Five Cheese Baked Macaroni Recipe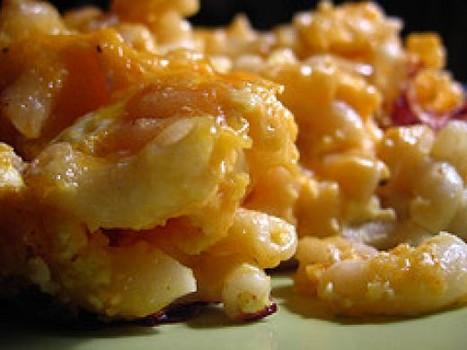 Baked macaroni and cheese with five cheeses
Ingredients
Cheese Sauce
1 qt half & half
1 qt heavy cream
1/4 cup parmesan cheese – finely grated
1/2 tsp Kosher salt
1/4 tsp white pepper
1 oz Asiago cheese shredded
1 1/2 tbsp Reggianto cheese Argentine brand Zerto – shredded
1 oz garlic, minced
1 tsp olive oil
2 oz Fontina cheese
Roux
1/2 stick butter
1/4 cup flour
Macaroni and Cheese
1 pound Cooked Penna Pasta
1/4 pound Pancetta, Diced & cooked
2 cups Cheese Sauce
1 oz Shredded Mozzarella
2 Tbls. Seasoned Bread Crumbs
Instructions
Cheese Sauce
In a 4-quart saucepot add olive oil and heat, add garlic, then add milk and bring milk to a simmer.
Stir in Roux (no lumps).
Add heavy cream and cheese, cook slow, simmer and season.
Roux
Melt butter, stir in flour.
Cook over medium heat for 5-7 minutes, stir often.
Macaroni and Cheese
Combine the first four ingredients together, making sure all are cold.
Pour into greased 1/2 inch pan
Cover with foil and bake at 350 for 8 minutes
Remove foil and sprinkle bread crumbs over pasta mixture.
Bake uncovered for 5 minutes
From >>http://www.magicalrecipes.net/mama-melroses-ristorante-italiano-five-cheese-baked-macaroni-recipe/?utm_medium=social&utm_source=pinterest&utm_campaign=tailwind_smartloop&utm_content=smartloop&utm_term=145536