Flourless Chocolate Cake Recipe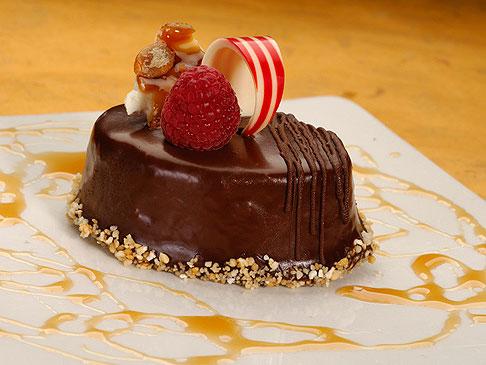 Adense chocolate cake for those who can't tolerate wheat or gluten.
Ingredients
Flourless Chocolate Cake
1 cup butter, cut into small pieces
1 cup dark chocolate chips
1/3 cup cocoa powder
2 tablespoons freshly brewed espresso or instant espresso
2 tablespoons hot water
6 eggs
1 cup granulated sugar
2 tablespoons rum
Ganache
1 cup heavy cream
1 cup dark chocolate chips
Instructions
Flourless Chocolate Cake
Preheat oven to 325 degrees F.
Grease two 6-cup silicone muffin molds.
Combine butter and chocolate chips in a glass bowl and microwave on high for 60 seconds.
Stir until smooth. If not melted completely, return to microwave for 15-second intervals, stirring between each until melted.
Set aside.
Combine cocoa powder, espresso and water in a separate bowl.
Stir until smooth and set aside.
Combine eggs, sugar, and rum in a large mixing bowl, whisking thoroughly.
Add cocoa-espresso mixture to egg mixture, then stir in melted chocolate mixture. Whisk until smooth and creamy.
Pour batter into prepared muffin molds and bake until cakes puff slightly and surfaces are set, about 22-25 minutes.
Cool, then refrigerate for at least three hours.
Remove cooled cakes from molds.
Set a wire rack over a large bowl, and one cake at a time, place on wire rack and coat with ganache, making sure to cover sides.
Refrigerate until ready to serve.
Ganache
In a medium saucepan over medium heat, add heavy cream and bring to a boil.
Remove from heat and stir in chocolate chips; whisk until smooth.
From >>http://www.magicalrecipes.net/hollywood-brown-derby-flourless-chocolate-cake-recipe/