Mickey Mouse Cupcakes with Mickey inside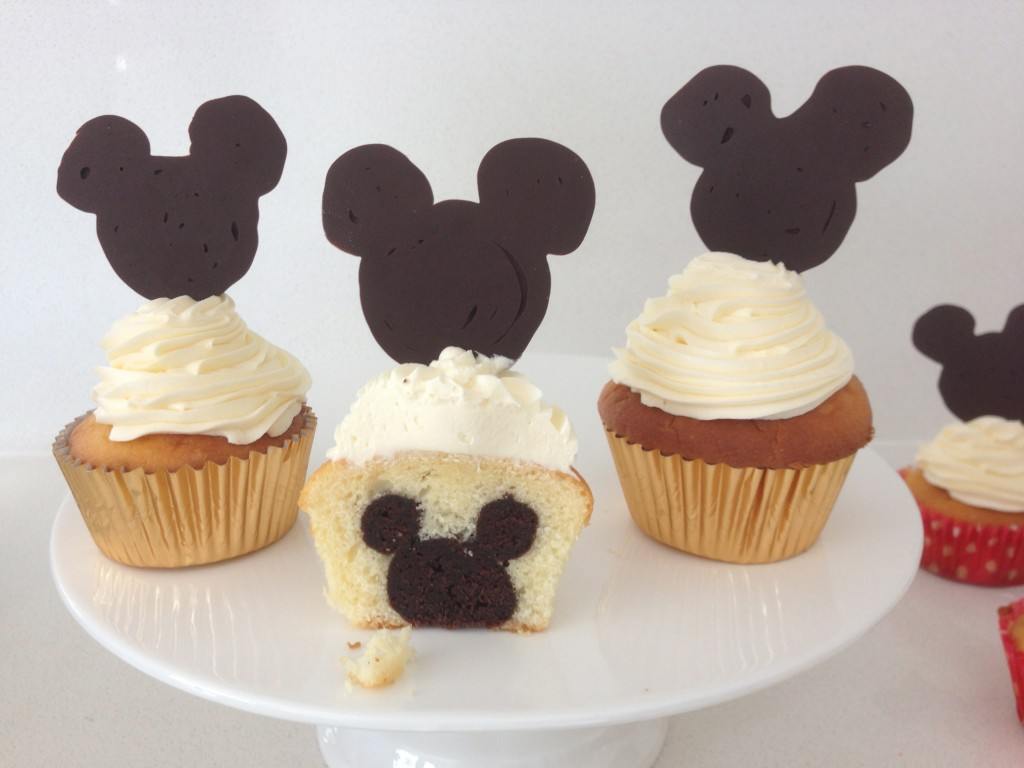 Mickey was everywhere, even honeymooners donned Mickey Mouse hats with veils. It was Disney World after all, but I still did not expect the level of devotion that the adults had for the Disney characters. These cupcakes are a tribute to our time spent at Disney World and to all those Mickey Mouse LOVERS! It does not matter from which side you bite into these cupcakes, Mickey Mouse is there to suprise and delight the little and big kids alike.
ark Brownie Mixture for Mickey on Inside
(you only need half of this recipe but I make the whole amount and let the kids have some).
1 cup or 220g (7.76 ounces) butter
2 1/4 cups or 491g (17.32 ounces) sugar
4 eggs
1 1/2 cups or 240g (8.47 ounces) plain flour
1 1/4 cups or 150g (5.29 ounces) unsweetened cocoa powder
1 tsp baking powder
1 tsp instant coffee powder (optional)
1 Tbsp vanilla (optional)
Preheat oven to 180C (356 degrees Fahrenheit). Melt the butter, allow to cool then add the sugar and eggs and mix well. Add the remaining ingredients and mix until combined. Spoon into a 17.5cm (6.89 inches) x 27cm (10.63 inches) tin and spread to the edges. Bake for approx 20-30 minutes or until a knife inserted into the centre comes out clean, try not to over bake them.
To make the brownie 'paste' crumble the brownies into a bowl (remember that you only need half the brownies if you made the full recipe). Add 1/2 cup of vanilla cake batter and 1/4 cup of water and stir well. If it is still very dry and crumbly, this will be the case if the brownies were a little over baked, then you may need to add up to another 1/2 cup vanilla batter and 1/4 cup water. Once you have a moldable paste you can make your mickey shapes (see video below)
Vanilla Cake Cupcake Recipe
(this recipe has been updated to give a softer, yummier cupcake)
6 Tbsp or 78g (2.75 ounces) butter or margarine at room temperature
1 1/2 cups or 327g (11.53 ounces) sugar
2 cups or 320g (11.29 ounces) flour
3 tsp baking powder
pinch of salt
2 eggs
1 cup or 250 millilitres (8.45 fluid ounces) full cream milk (4% fat)
1 tsp vanilla essence
Place the butter and dry ingredients into the bowl of an electric mixer and whisk until it resembles fine bread crumbs.  Place the wet ingredients in another bowl and beat with a fork until well combined.
Add half of the wet mix into the crumb mix and beat for 30 seconds with the electric mixer on slow speed, add the remaining wet ingredients and mix for a further 30 seconds or until just combined (do not over mix).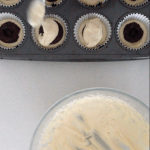 Put a spoon of cake mixture into the bottom of 12 cupcake cases. Add a 3D mickey brownie shape (watch the video below for a demonstration of how to make these) then top with more cupcake mixture. Bake in the oven for approximately 15 minutes at 180C (356 degrees Fahrenheit).
From >>https://www.howtocookthat.net/public_html/mickey-mouse-cupcakes-with-mickey-inside/?utm_medium=social&utm_source=pinterest&utm_campaign=tailwind_smartloop&utm_content=smartloop&utm_term=145554