Orange Cranberry Bread Pudding With Vanilla Sauce Recipe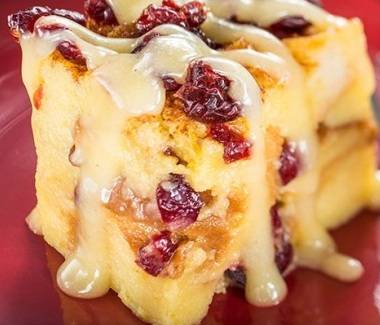 Bread pudding with cranberries, orange zest and a vanilla cream sauce
Ingredients
Bread Pudding
8 pieces Texas toast or favorite thick-sliced bread
1/2 cup dried cranberries
2 cups whole milk, divided
6 ounces white baking chocolate, melted
3 eggs
1/2 cup sugar
2 teaspoons vanilla extract
1/2 teaspoon table salt
1/2 teaspoon cinnamon
Vanilla Sauce
2 egg yolks
1 tablespoon vanilla
1/3 cup sugar
2 teaspoons cornstarch
1 cup milk
1/2 cup heavy cream
2 tablespoons Grand Marnier or favorite orange-flavored liqueur
Instructions
Bread Pudding
Preheat oven to 350 degrees F.
Lightly grease 8×8 inch baking dish.
Cut bread into 1×1 inch cubes.
Spread evenly in baking dish.
Sprinkle cranberries evenly over bread.
Set aside.
Heat 1 cup milk and melted white chocolate in small saucepan over medium-low heat, stirring until milk and chocolate are combined.
Whisk eggs, remaining 1 cup milk, sugar, vanilla, salt, cinnamon, and orange zest in a small bowl; add to melted chocolate mixture, stirring to combine.
Pour mixture over bread.
Let sit 10 minutes, allowing bread to absorb the liquid.
Bake for 30-35 minutes in a water bath until a knife inserted comes out clean.
Vanilla Sauce
Whisk egg yolks, vanilla sugar, and cornstarch in medium bowl until fully combined and slightly foamy.
Set aside.
Heat milk and cream in a medium saucepan over medium heat for 3 to 5 minutes, until bubbly around the edges.
Gradually add hot milk mixture to egg mixture, stirring constantly with a whisk.
Return mixture to saucepan and cook over medium-low heat until thick and bubbly for 2 to 3 minutes, stirring constantly.
Remove from heat and stir in Grand Marnier.
Set aside until ready.
Serve
Cut bread pudding into squares and drizzle with warm vanilla sauce.
From >>http://www.magicalrecipes.net/food-and-wine-festival-orange-cranberry-bread-pudding-with-vanilla-sauce-recipe/