PESTO STUFFED SHELLS
ho doesn't love cute little pasta bundles?? These Pesto Stuffed Shells remind me of little baby lasagnas that have yet to grow into their full form. They have all the same goodies as a spinach lasagna, but rolled into easy-to-portion pasta shells. And to make life easier, I worked some store-bought pesto into the filling to take care of all the seasoning needs in one swoop, instead of adding herbs and spices one by one. So fast, so easy. And these little guys freeze beautifully, so don't be afraid of the large batch size. simply let them cool completely, transfer to a freezer safe container, and stash 'em in your freezer for later!
This recipe made about 22 stuffed shells for me, but your distance may vary. I suggest boiling about 25 shells just in case you have extra filling or a couple of them rip during the stuffing process. I used about 2/3 of a 12oz. box of jumbo shells, which gave me 22 individual shells.
PESTO STUFFED SHELLS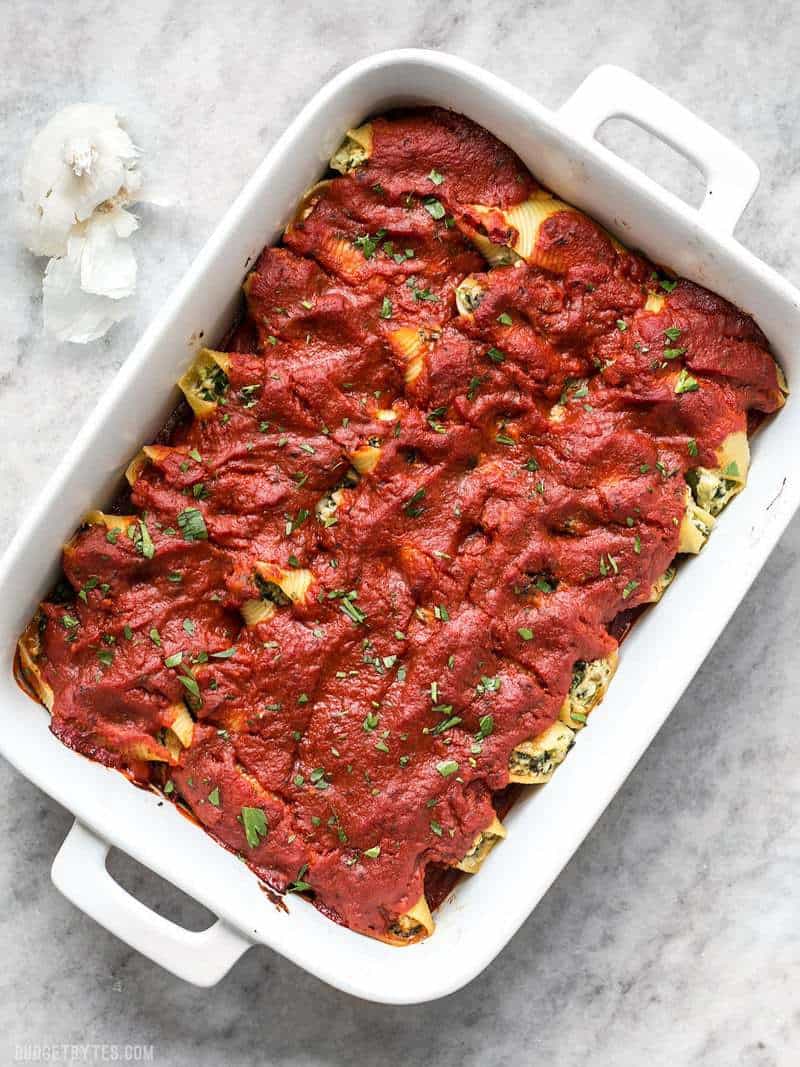 PESTO STUFFED SHELLS
Make sure the spinach is completely thawed, then squeeze out as much of the moisture as possible. Add the spinach to a large bowl with the ricotta, mozzarella, pesto, and egg. Stir until the ingredients are well combined, then refrigerate until it's ready to be used.

Bring a large pot of water to a boil, then add the jumbo shells. Cook the shells just until they're tender, making sure not to over cook the pasta. The longer the shells boil, the more likely they are to tear during the stuffing process. Drain the shells in a colander and then rinse briefly with cool water to make them cool enough to handle.

Preheat the oven to 350ºF. Spread about 1 cup of pasta sauce in the bottom of a large casserole dish.

One by one, stuff each shell with a couple tablespoons of the cheese, pesto, and spinach mixture. Place the shells in the casserole dish as you stuff them.

Once the shells are all stuffed, pour the remaining two cups of pasta sauce over top. Bake the shells for about 30 minutes in the preheated oven, or until the sauce is bubbling up around the edges. Serve hot.
From >>https://www.budgetbytes.com/2010/03/pesto-stuffed-shells/?utm_content=buffer79b98&utm_medium=social&utm_source=pinterest.com&utm_campaign=budgetbytesbuffer