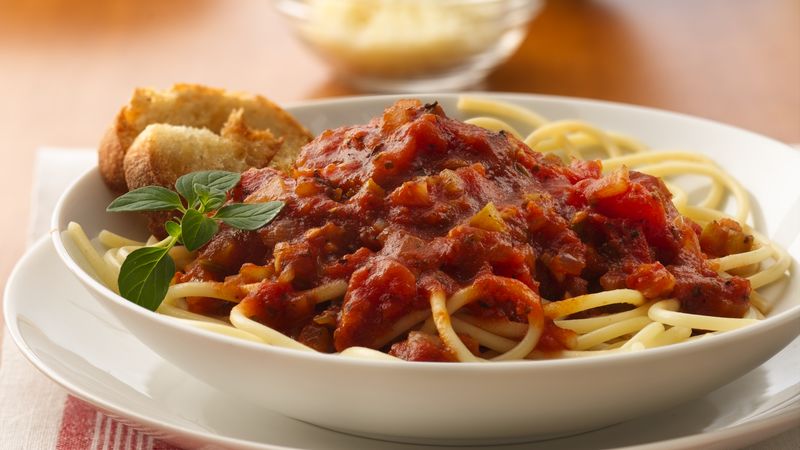 Ingredients
2
cloves garlic or 1/4 teaspoon garlic powder
1
small green bell pepper
1
tablespoon olive or vegetable oil
1
can (14.5 oz) diced tomatoes, undrained
1
can (8 oz) tomato sauce
1
tablespoon chopped fresh or 1 teaspoon dried basil leaves
1 1/2
teaspoons chopped fresh or 1/2 teaspoon dried oregano leaves
1/4
teaspoon fennel seed, if desired
1/2
teaspoon salt (for cooking spaghetti), if desired
Steps
1

Peel and chop the onion to measure 1/2 cup. Peel and finely chop the garlic. Cut the bell pepper in half lengthwise, and cut out seeds and membrane. Chop enough bell pepper to measure 1/4 cup. Wrap any remaining bell pepper with plastic wrap and refrigerate.

2

In a 2-quart saucepan, heat the oil over medium heat 1 to 2 minutes. Add the onion, garlic and bell pepper. Cook 2 minutes, stirring occasionally.

3

Stir in the tomatoes with their liquid, tomato sauce, basil, oregano, 1/4 teaspoon salt, the fennel seed and pepper. Heat to boiling over high heat. Once mixture is boiling, reduce heat just enough so mixture bubbles gently and does not spatter.

4

Cover with lid; cook 35 minutes, stirring about every 10 minutes to make sure mixture is just bubbling gently and to prevent sticking. Lower the heat if the sauce is bubbling too fast.

5

After the sauce has been cooking about 20 minutes, fill a 4-quart Dutch oven about half full of water. Add 1/2 teaspoon salt if desired. Cover with lid; heat over high heat until the water is boiling rapidly. Add the spaghetti. Heat to boiling again. Boil uncovered 8 to 10 minutes, stirring frequently, until tender but not mushy.

6

Place a strainer or colander in the sink. Pour the spaghetti in the strainer to drain. Serve with the tomato sauce.
From >>https://www.bettycrocker.com/recipes/spaghetti-with-marinara-sauce/52051239-6702-42d7-b3a7-b970250e3d23