STRAWBERRY CHEESECAKE CUPCAKES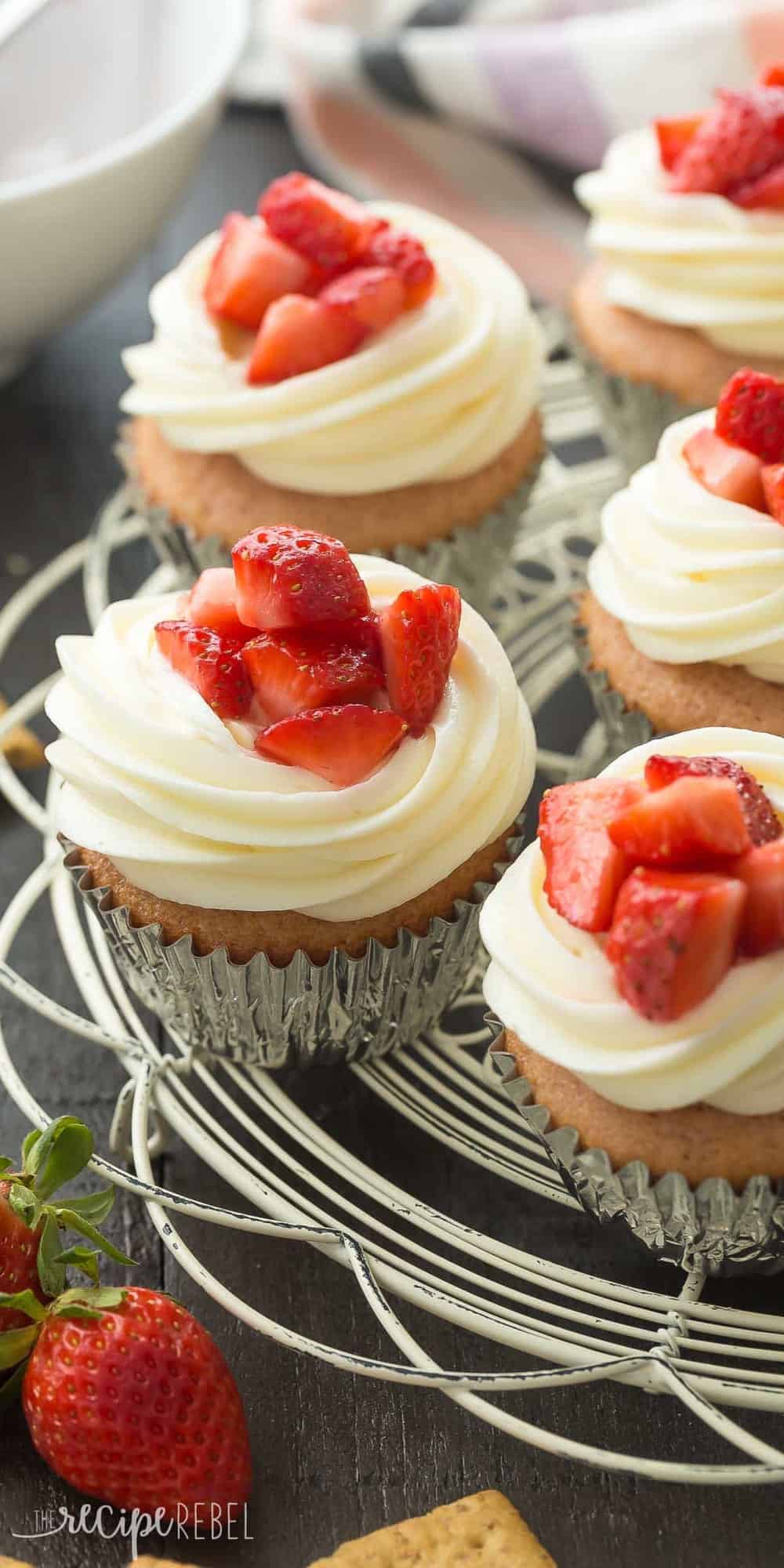 We have a number of things to celebrate today:
cupcakes
the coming of Spring
a THIRD year of The Recipe Rebel
Say whaaaat?!? Can it be?
Let me say first that it feels like forever. It's like any long term relationship, I think. In one way, it's hard to think back to your life without that person/animal/thing, and at the same time, life seems to be moving at warp speed.
Forgive me as a get a little weepy here. (Feel free to jump ahead to the cupcakes)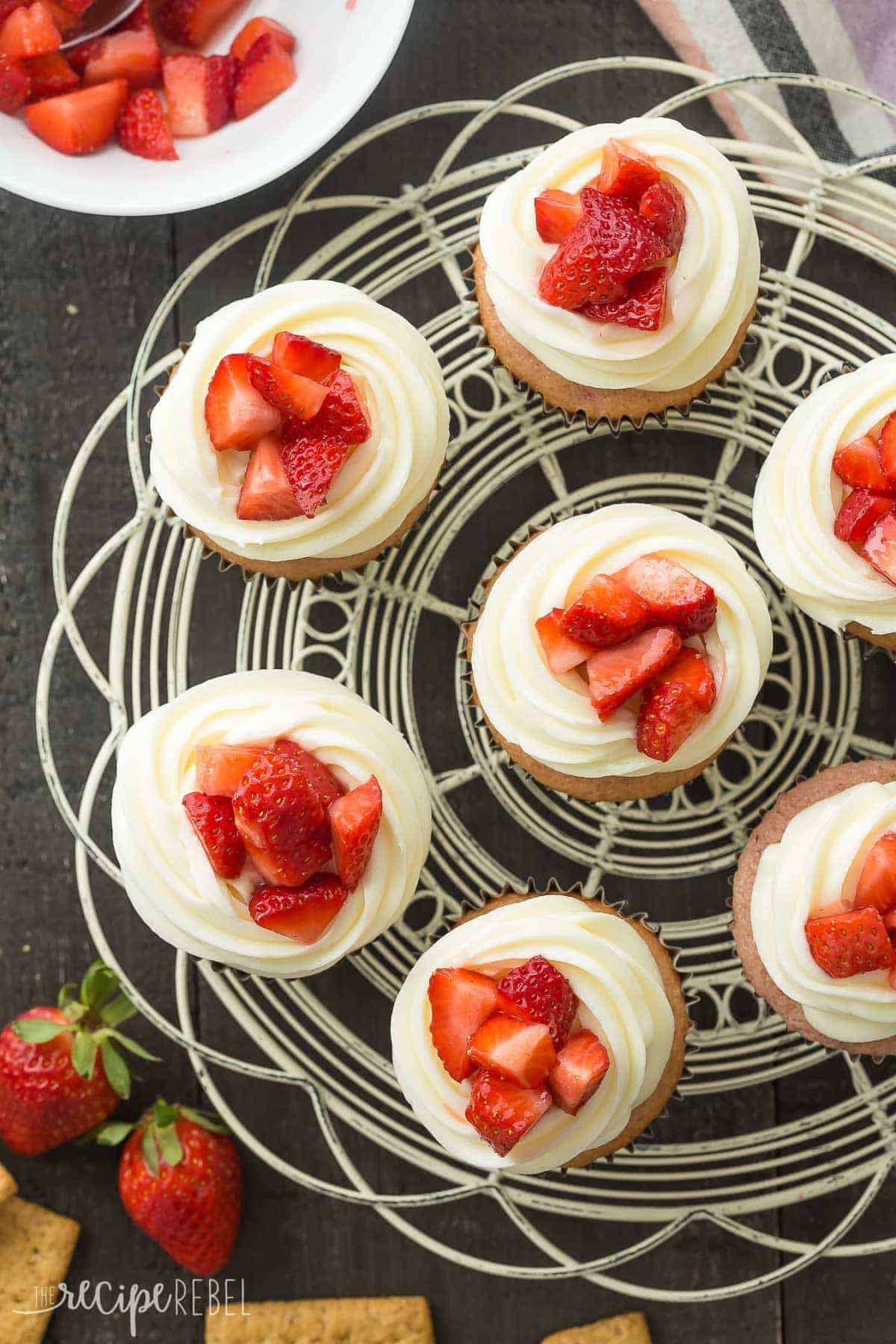 My blog birthday (blogiversary if you prefer), is something that I usually kind of forget about until it's right here, or last week. Mostly because a good chunk of my time is spent running around like a crazy person.
At the beginning of the year, my #1 goal or resolution was to just slow down and take a breath. I was going to work less, play with my kids more, make new friends and reconnect with old ones. I had big, wonderful plans.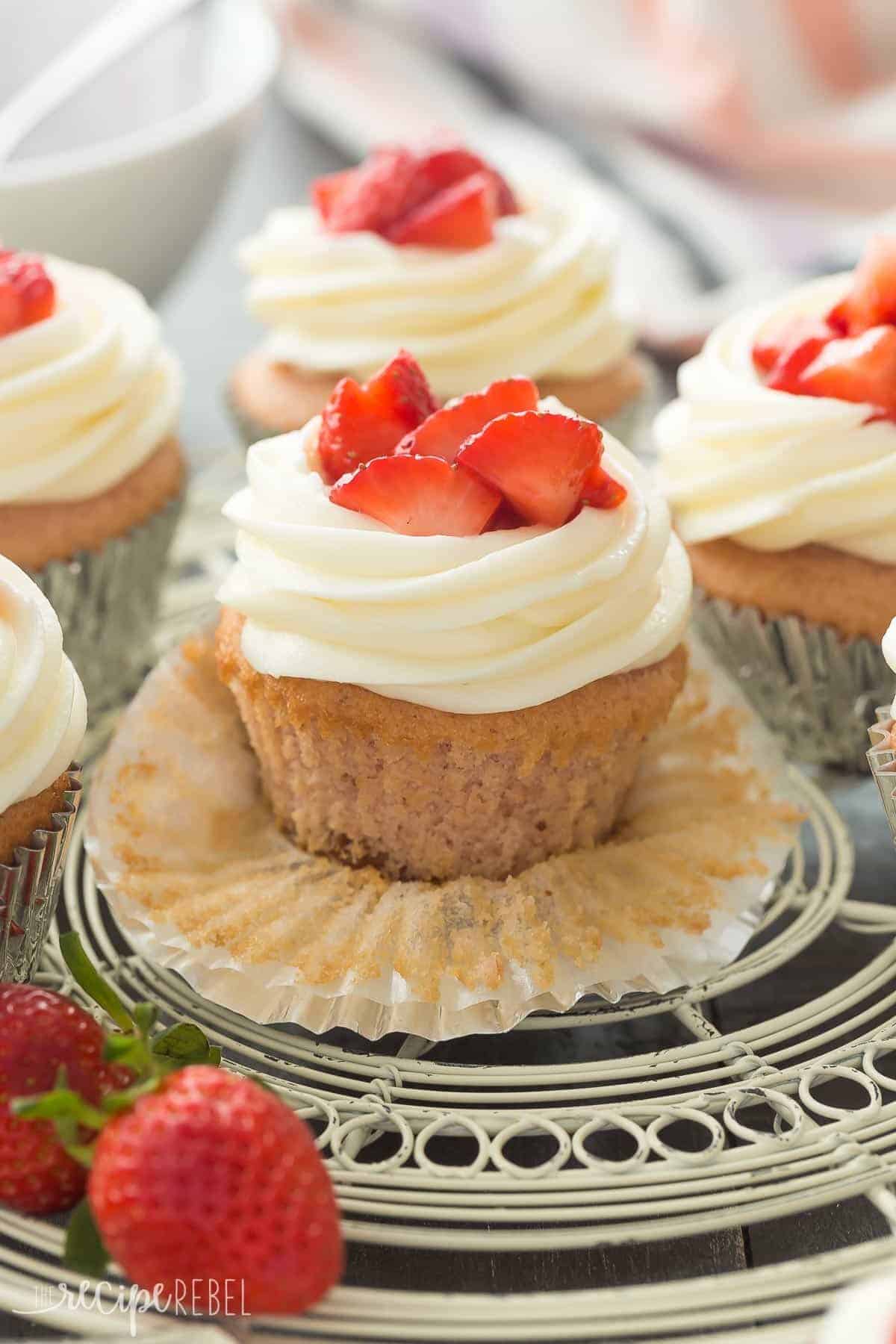 And I'm still struggling to change. I'm struggling to make my kids a priority and not view them as an obstacle between me and my to-do list. I'm still struggling to close the computer and turn off my phone.
How is that for a depressing birthday speech? Let me change gears.
The reason it's so hard for me to let go of things is because I feel so, so insanely lucky to be here. There are a lot of parts of this job that are not fun, but I get to cook, in my home, and it's my day job. I can make my schedule however I want, and work whenever I want, and hug my kids and tuck them into bed.
The thought makes me so ridiculously happy. But my "don't-ever-stop" nature turns it into something overwhelming and exhausting.
So what I'm trying to say, again, is thank you. Because it's difficult to blog for a living without an audience, even if you're here just for the cupcakes and you're one of the ones who "just wants to get a recipe, not a sob story!!!!", thank you even so.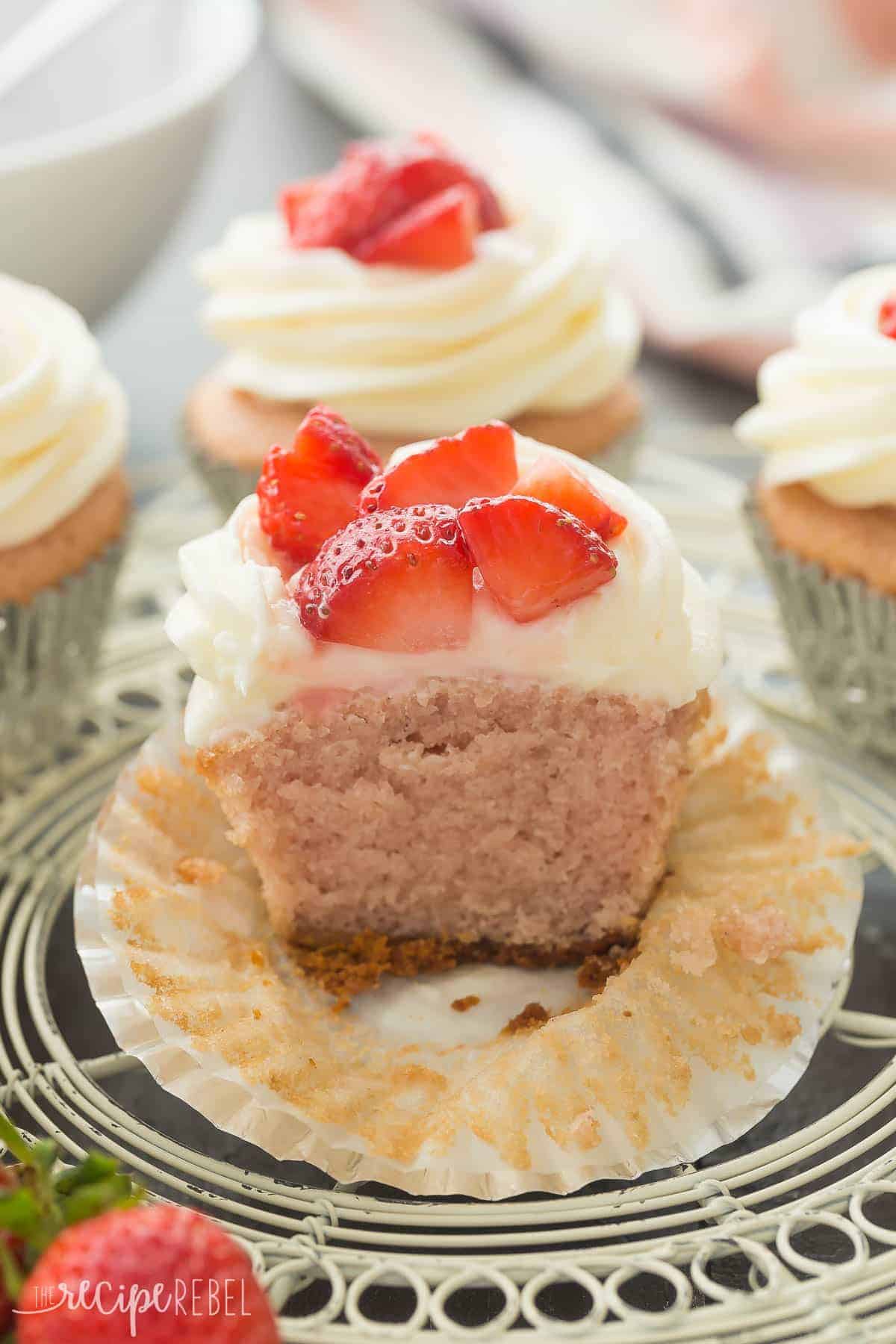 And on a final note — this recipe is from the actual, real deal Sprinkles bakery cookbook. I was beyond thrilled when I found it, and I wasn't going to leave it behind. To be honest, I've only had a Sprinkles cupcake once, but it was one of the best cupcakes I've ever had in my life, and I just had to recreate some! I highly recommend the book if you love baking and cake and sweet treats as much as I do.
Here's to 3 years! (and yes, I'd rather toast with cupcakes than champagne)
Strawberry Cheesecake Cupcakes and a 3rd Blog Birthday
INGREDIENTS
CRUST
3/4 cup graham cracker crumbs
2 tablespoons melted butter
CUPCAKES
1/2 cup butter, softened
1 cup granulated sugar (200g)
2 large eggs
3/4 cup fresh, chopped strawberries (or frozen, thawed and drained), pureed
1/4 cup milk
1 teaspoon vanilla extract
1 1/2 cups (about 188g) all purpose flour
1 teaspoon baking powder
1/4 teaspoon salt
CREAM CHEESE FROSTING
4oz (1/2 8oz package) cream cheese, room temperature
1/4 cup unsalted butter, room temperature
pinch of salt
1/2 teaspoon vanilla
2 cups powdered icing sugar
1 cup fresh strawberries, chopped
1 teaspoon granulated sugar
DIRECTIONS
CRUST
Preheat oven to 350 degrees F and line a 12 cup muffin pan with liners.
Combine graham cracker crumbs and butter, divide between muffin cups and press down into the bottom.
Bake for 5 minutes or until just starting to dry but not crumbly. Set aside.
CUPCAKES
In a large bowl, with an electric mixer, cream butter and sugar until light and fluffy.
Add eggs, strawberry puree, milk, and vanilla and beat until smooth.
Add flour, baking powder and salt and stir just until combined. Divide between muffin cups and bake for 19-21 minutes, until a toothpick inserted in the center comes out clean. Set aside to cool completely before frosting.
CREAM CHEESE FROSTING:
Add cream cheese and butter to a large bowl and beat with an electric mixer until smooth.
Add salt, vanilla and 1 cup of sugar. Beat until smooth.
Gradually add in remaining 1 cup sugar, beating until smooth, until desired consistency is reached.
Combine 1 cup strawberries and 1 teaspoon sugar in a small bowl and stir to coat. Let sit 5-10 minutes.
Spread or pipe frosting onto cooled cupcakes, leaving an indentation in the center for strawberries. Spoon strawberries into the center of each cupcake. Serve or refrigerate until ready to serve, up to 2 days.
From :https://www.thereciperebel.com/strawberry-cheesecake-cupcakes-video/