Tomato Crostini with Whipped Feta
You guys. This appetizer is life changing. Ok I know that sounds dramatic but when I took my first bite, I was in heaven.  My Mom made it when I was at her house a couple months ago and I couldn't wait to share the recipe with you.  It is the perfect mix of ingredients and will wow anyone you make it for.  Or you can just make it for yourself to eat something fancy.  It's one more to add to my collection of savory appetizers.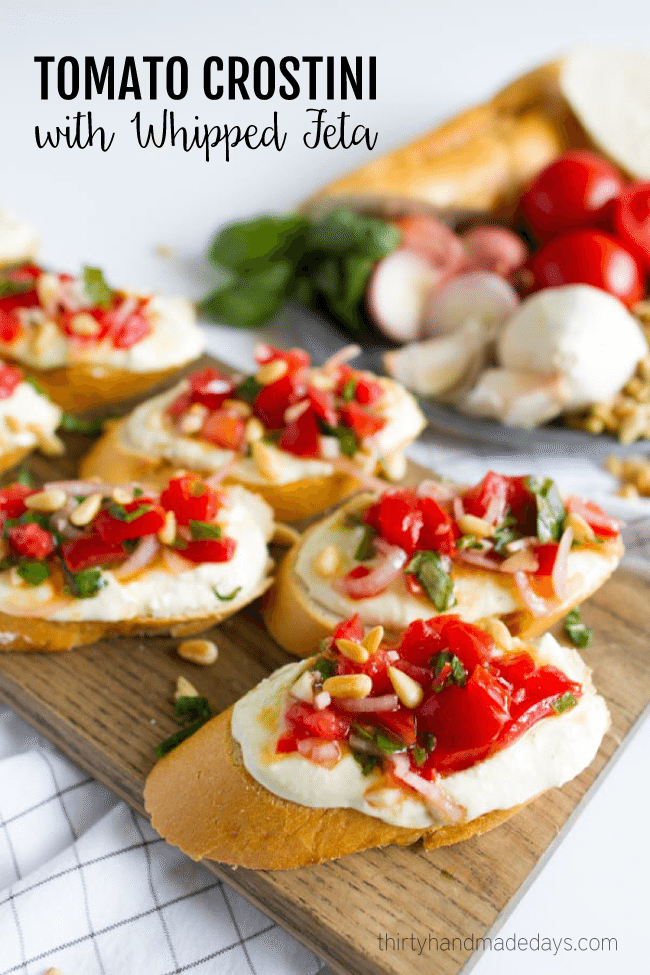 I've never had whipped feta before and now I really don't want anything else.  It's creamy, fluffy and delicious.  Oh my word – it's amazing!  It might seem a little more involved than what I normally share but it's really not.  It's simple and worth it.
Tomato Crostini
6 oz. feta, crumbled
2 oz. cream cheese, room temperature
⅔ c. olive oil
2 TBSP freshly squeezed lemon juice
2 tsp minced garlic
1 TBSP red wine vinegar
2 lbs. ripe heirloom or cherry tomatoes, diced
3 TBSP fresh basil leaves
baguette
2 TBSP toasted pinenuts
Make whipped feta:
Put feta and cream cheese in a food processor and pulse until the cheeses mix. Add ⅓ c. olive oil, lemon juice, ½ tsp salt and ¼ tsp pepper. Process until smooth.
An hour before you plan on serving, combine shallots, garlic and vinegar in a bowl. Set aside for 5 mins. Whisk in ⅓ c. olive oil, 1 tsp salt and ½ tsp pepper. Add tomatoes, stir and set aside for 10 mins. Stir in basil.
Assembly:
Spread each slice of bread with whipped feta. Use a slotted spoon to place the tomatoes on top. Put the crostini on plates and scatter with pine nuts. Sprinkle with extra basil.
From >>https://www.thirtyhandmadedays.com/tomato-crostini/